E
V
E
R
Y

D
A
Y

*

B
L
A
C
K

*

H
I
S
T
O
R
Y


MR. PRESIDENT
Barak Hussein Ubama

Get Black History Facts!!!

The Hon. Charlene Mitchell
* Charlene Mitchell was the first African-American to run for President, at the head of the 1968 Communist Party ticket. She received 1,075 votes from four states. She was also the first woman to have her name on the general election (i.e. November) ballot.










T-F 10:30
M-W 11:30
The Honorable Shirley Chisholm
UNBOUGHT-UNBOSSED
The Fighting Shirley Chisholm
Unbought & Unbossed!

"Racism is so universal in this country, so widespread and deep seeded, that it is invisible because it is so normal."

Sirley Chisholm announcing her run for the Presidency in 1972. This image was first published in the United States in 1923 or later, but is considered public domain by the Library of Congress.

The first black woman to be elected to the U.S. House of Representatives, Shirley Anita St. Hill Chisholm, was born November 30, 1924 in Brooklyn NY. Her father was from British Guiana and her mother from Barbados. She attended school in Barbados West Indies for several years before rejoining her parents in New York. She graduated from high school in New York, attended Brooklyn College where she graduated in 1946 with honors When Ms. Chisholm encountered racism at Brooklyn College, she fought against it. When the black students at Brooklyn College were denied admittance to a social club, she formed an alternative one. She graduated in 1946 with honors. While working as a teacher, she earned a Master's degree in elementary education from Teachers College, Columbia University.




The Honorable Leona Fulani
* Lenora Fulani was the most successful female minor party candidate. Her name was on the ballot in 51 jurisdictions in 1988 and 48 in 1992. No other woman running for President, whether in a primary or a general election, has had her name on as many different ballots.

M-F 3:30
NOTABLE
Reverend Edward Pinkney has been a stalwart fighter for justice in the community and is leading its resistance to these powerful corporate interests.
SUPPORT
"JUSTICE "...founded in the Fundamental Principles of Truth..."...Elijah Muhammad, Messenger of Allah
Troy Davis Update
Finality Over Fairness

The Case of Troy Davis Update: Oral arguments were heard on November 13, 2007 at the Georgia Supreme Court. In August, the court ruled 4-3 that they are willing to hear Troy's appeal to present new evidence. Read Full Article at
Mmnesty Internation website.

*************
M-F 3:30
Mumia Update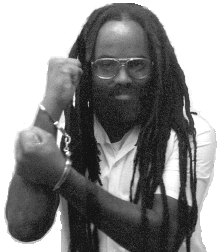 Mumia Abu-Jamal - NBC's "Today Show"; pending decision [PLEASE CIRCULATE]Read more on the website at: Mumia Update

Dear Friends: Many people have contacted my office asking about the reaction of my client, Mumia Abu-Jamal, to the NBC "Today Show" segment on the case that was broadcast hroughout the United States on December 6. The program has great credibility. Recently in a legal conference Mumia summed up his feelings to me: "For once the treatment was fair and balanced." I fully agree, for all that we have ever asked by the media is to be treated fairly. The transcript of the program is below.
FREE MUMIA
MUMIA'S SON
JAMAL HART
ANOTHER CASUALTY Mumia's son, Jamal Hart,
has been in prison for ten years now under highly questionable circumstances, to say the least.

He is asking for our support at this stage of his case, and we urge everyone to write letters of support to the authorities as indicated in Jamal's letter.

Monique Code is his main support person and organizer. His relationship to Mumia is definitely part of this picture. Ona Move!
T-F 10:30
Free the San Francisco Eight!
Committee for the Defense of Human Rights Murder Charges Against Former Black Panthers Based on Confessions Extracted by Torture
Latest News: Harold Taylor remains free on bail Read the details. FREE SF 8 http://www.freethesf8.org/
M-W 11:30
HISTORY MAKERS
Lt. Leland D. Melvin
NASA Astronaut
Enter content here
Hi everyone I am proud to announce the Let's Talk Honestly Person of the year
TALK HONESTLY
Astronaut Leland D. Melvin. Leland Melvin will be on the next shuttle mission STS 122 in 2008. Mr Melvin is a former NFL player, a chemist and an astronaut.
Learn more about Mr. Melvin here:
George Cook
http;//www.letstalkhonestly.com
--
George Cook

http://www.letstalkhonestly.com

=//=
Use This Form to Submit the Data You'd Like Posted


(Commerical submissions not accepted on this page)